Products
MC Phono Cartridge
Shelter MC phono cartridge is divided 2 major lines. The first series is "Ultimate Line" which consists of 60t dry-carbon fiber to the housing and aiming the future of analog playback. Another series call "Legendary Line" which is succeeding matured analog playback technology of 80's faithfully to the current product.
Ultimate Line
The MC phono cartridge explores unknown possibility of analog playback.
Ultimate Line is extreme MC phono cartridge series, the material structure renewed after almost a quarter of century by means of adopting ultra-degree hardness dry-carbon fiber to its housing while succeeding the fundamental motor system design philosophy of Shelter. The compression ratio of 60t class carbon fiber material used to Ultimate Line has far higher hardness than conventional 24t dry-carbon fiber, which material is the world-first time to use the phono cartridge. In addition to the dry-carbon fiber's original characteristic of resonance free, high internal loss and elastic rate with superb shielding effect to external noise, the 60t carbon fiber used to Shelter Ultimate Line reproduces subtle signal without coloration and deep quietness, and its structure is effective to all other aspects in different dimension. The flagship model of Harmony is adopting innocent solid dry-carbon fiber for entire housing and affiliated model of Accord adopts the same material to its base plate. With adopting the leading-edge of carbon fiber technology available in Japan the Shelter MC phono cartridge explores unknown possibility of analog playback. We hope that you enjoy to listening the new reproduction ability through Shelter Ultimate Line.

Shelter's flagship model, the Harmony, employs dry carbon fiber (CFRP) for the body shell. CFRP delivers a superb acoustic characteristic and is an ideal match with the newly designed motor assembly. This combination is capable of delivering a great musical reproduction even on records with less than optimal recordings.
Dry carbon, unlike wet carbon, is designed in layers and unique molding. Harmony, utilizing the CFRP, has a compression rating of 60-tons whereas the conventional process is only 24-tons. The benefit is that the resonant frequency of CFRP is outside of any audible frequency. In addition, it provides a high degree of internal damping along with superb isolation characteristics that protects the body from extraneous vibration and noise. Each of these design features ensure that the Harmony produces no coloration, and is whisper quiet and is extraordinarily sensitive to even the most demanding and subtle musical passages.
The motor assembly is an all-new design using hard aluminum cantilever and OFC wiring. Hard aluminum allows us to firmly affix the diamond stylus tip to a rigid, yet responsive bass. This allows the stylus to receive and reproduce every bit of information within the grooves of your favorite recordings. The length of the cantilever is slightly shorter than typical to increase the strength to output voltage ratio. Normal aluminum cantilevers often develop a tendency to make the playback sound slightly bigger, but the stylus chip is designed to line-contact with its curvature radius to 1.6 x 0.3mil (0.04 x 0.007mm) to achieve the best balance and increased tracking capability at the same time.

The Accord MC phono cartridge is a magnificent composite of intricately layered, ultra-dense, dry-carbon fiber and titanium. The dry-carbon fiber has a remarkable 60 ton compression ratio of hardness and is precision CNC machined. This forms the mounting base plate and attached to it is a CNC machined titanium housing creating a unique marriage of materials. The exceptionally hard aluminum alloy cantilever is the same one used in the acclaimed Harmony cartridge from Shelter. The ACCORD's exquisite character is accomplished by precisely integrating the stylus into the tip of the cantilever. This combination of carbon fiber and titanium materials, the incorporated an elliptical needle (0.3 x 0.7 mil) and precisely wound coil assembly is a testimony to this masterpiece of a cartridge. The body is light, strong, and incredibly rigid and possesses outstanding internal damping qualities that make it an ideal mounting platform for the cartridge's motor mechanism. The result is a phono cartridge of remarkable character, warmth, quietness, and sonic integrity for it's cost and performance.
Legendary Line
The "new-classic" MC phono cartridge continuously evolves with
conveying the brightness of analog's maturity period to the present day.
Legendary Line is traditional MC phono cartridge with faithfully succeeding the basic design of Model 701 series, which was sold in 1986 as the first generation of Shelter product. The sound is extremely smooth and gentle, and yet it has minute information volume and quietness, which are compatible at higher dimensions. With using stable material based on the long result such as aluminum alloy body housing, simple and legitimate motor structure, aluminum-clad boron cantilever, 0.3 x 0.7 mil elliptical diamond stylus tip and others, it yields flexibility of limitless sound tuning. Legendary Line conveys 80' analog record reproduction brightness with succeeding the ancient technic faithfully to the present day. After 30 years to mature it reaches to esoteric expressive power which melting the listener's heart instantaneously and we trust that you can leave an important record playback in peace forever.

The Model 9000 is our finest cartridge to date. It provides high output voltage of 0.65mV with superior bandwidth and is perfectly balanced across the frequency spectrum. We have achieved a level of performance that is incredibly quiet while reproducing extraordinary levels of musical information. Although the science is state of the art, the 9000 is sonically solid, full and classic and is perfect with all musical tastes.

The Model 7000 output voltage of 0.55mV is slightly lower than the Model 9000 but it is fully capable of reproducing all of the subtlety and nuance of your favorite recordings. Incredibly detailed and ultra smooth, the 7000 is capable of recreating the emotion and excitement of the most demanding recordings.

The Model 5000 uses a different bobbin and wire than the 9000 and 7000. The front yoke and body shell use a slightly less sophisticated design but the sound quality is outstanding. This cartridge is perfectly balanced and develops a natural, smooth and pleasing experience.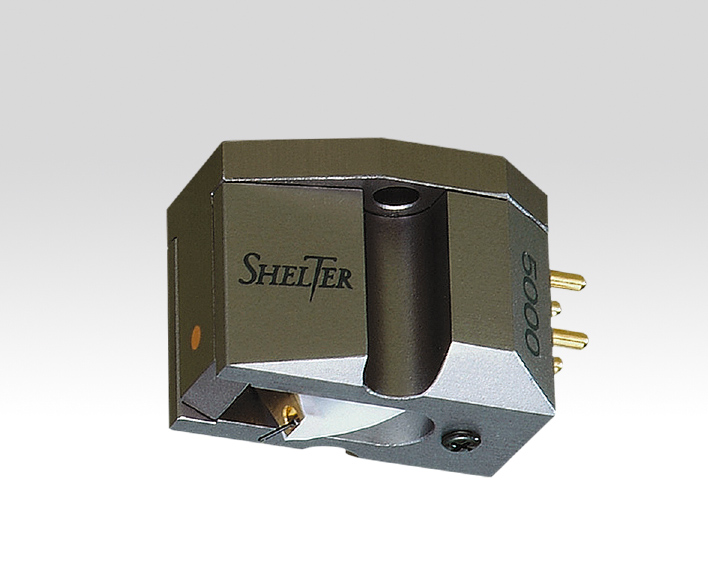 Model 5000 Specifications
Output voltage: 0.5mV
Stylus tip: 0.3 x 0.7mil elliptical
Impedance: 14 ohm
Weight: 11 gram
Tracking force: 1.4 to 2.0 gram
| MODEL | 9000 | 7000 | 5000 |
| --- | --- | --- | --- |
| Output voltage mV (5cm/s,1kHz) | 0.65 | 0.55 | 0.5 |
| Stylus tip mil | 0.3×0.7elliptical | 0.3×0.7elliptical | 0.3×0.7elliptical |
| Impedance ohm | 10 | 9 | 14 |
| Weight gram | 11 | 11 | 11 |
| Tracking force gram | 1.4〜2.0 | 1.4〜2.0 | 1.4〜2.0 |

The 901III uses hard aluminum cantilever with line-contact diamond stylus chip same structure with Harmony. Unlike models 7000 and 9000, which pursue more information or detail of sound, 901III provides comfort of analog playback sound from the moment when the stylus chip falls into the groove.

The Model 501 III is latest development of 501 series. Through continued refinement the 501 III is equally responsive with the most recent recordings or any of your most cherished albums. The 501 III has the combination of aluminum clad boron cantilever and elliptical diamond stylus tip. The expressiveness, power and energy fare superbly balanced to highest level.

The 301 II has an aluminum cantilever and conical stylus tip. The stylus tip is a moderate size of 0.65mil. It is a great choice for traditional analog reproductions as well as with legacy albums of your favorite performers.
MM Phono Cartridge

The Model 201 is MM (moving magnet) cartridge. Designed for affordability, the weight and output are matched for a wide selection of tone arms and tables. Unlike many MM cartridges, there is no "peak" so it is a pleasing and robust performer.
Headshell

The Model 1011 series head-shell uses choice aluminum (6063) that has high degree of internal loss and less ringing. It is separated, finger hook type. The finger hook provides M2.6 x 2 screw holes and 2 through holes for of total 4 installation holes. It has a threaded screw hole that allows you to utilize various cartridges without the need for a nut. It includes 6 kinds screw of M2.6 x 6, 8, 10, 12, 15 and 18 with M2.6 nuts. The weight of 1011 is 11 gram and 1011L is 9.3 gram (with shell lead and finger hook).
MC transformer

The Model 411 II is mono-functional stereo MC transformer to match with MC cartridges with internal impedance (DCR) of less than 15 ohm. The impedance tolerance is 25 ohms. The transformer is a toroidal design that applies the toroidal winding to 0.05mm thickness of supermalloy, layered ring-core. The core volume has an external diameter of 25mm, internal diameter of 16mm and height of 10mm. The termination of the wire is directly connected to in/out terminal. Therefore, the high efficiency of toroidal transformer realizes extremely low loss structure. It delivers the signal from the cartridge without coloration to the phono- terminal directly. Model 411II is a modified version of Model 411 and it has 32dB of step-up ratio of approximately 40 times.
Return to Top